University of Michigan Football Tailgate Planning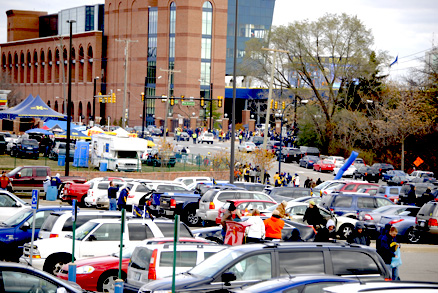 2021 Football Season: Good news! Permissible stadium capacities are increasing. If you're planning a tailgate for the 2021 University of Michigan football season, now is the time to give Park n Party a call, 888.926.7275.
Nothing beats a great tailgate party! Family, friends, food, fun, and football!
Park n Party® can help you plan it all out. Location! Parking! Food! Equipment! Large group or small; Corporate or private. If you're planning a tailgate at a Michigan football game, give us a call at 888.926.7275.
We have a variety of delicious and fun Tailgate Packages. Give us a call for more information.
Check out our Tailgate Planning Video, click here.
Here's an overview of several available Ann Arbor locations:
Big House Clubhouse: This beautifully built facility offers two levels of amazing tailgate space totaling 800 sq. feet with an additional 600 sq. feet of space on the outside. Lots of amenities including multiple flat screen televisions, a bar, an awesome sound system, and bathroom. The Clubhouse provides the proper surroundings for your high end tailgating needs.


MGoPatio: This amazing space features a 1,500 sq. foot patio with an inlaid Block-M and generous seat-wall space for large gatherings. Throw in a flat screen television, a full size refrigerator, and amazing views of the stadium and you have an upscale location for your premium event.


MGoDeck: Located directly across the street from MGoPatio this private yard provides an amazing location for tailgating. MGoDeck features a spacious private back yard with lots of room for 50 - 75 people, food, and tailgating games. If you are looking to have an upscale tailgate party close tot he stadium, MGoDeck is an awesome option!