NOTE: Pioneer H.S. will not park RVs during the 2022 Michigan Football season.
Driving your RV to Ann Arbor, Michigan to see a University of Michigan football game adds to the overall experience of a weekend of food, family, friends, fun, and football!
With more than 200,000 college football fans descending upon Ann Arbor to enjoy a Michigan football game at the Big House, you don't want to consider driving your RV to Ann Arbor without first making an RV reservation with Park N Party.
Most Park N Party RV locations allow you to arrive Friday evening (after 6 p.m.) and depart by noon on Sunday. Park N Party will update our list of Ann Arbor RV parking locations as additional Lots become available.
Each RV Lot has its own set of rules and regulations, they appear on each Lot's Park N Party webpage. Be sure to review the Lot's rules and regulations BEFORE making a reservation. If you have any questions, feel free to email Park N Party at support@parknparty.com. Once made, reservations can not be cancelled or refunded for any reason.
IMPORTANT: For safety reasons, external generators, regardless of fuel source, gas canisters, and fire pits (of any kind) are NOT permitted.
To stay up-to-date on the status of RV locations in Ann Arbor, Michigan, be sure to join our Park N Party email list, click here.

Park N Party Ann Arbor RV Parking Locations:
South Main 545
West Huron 218
Briarwood Mall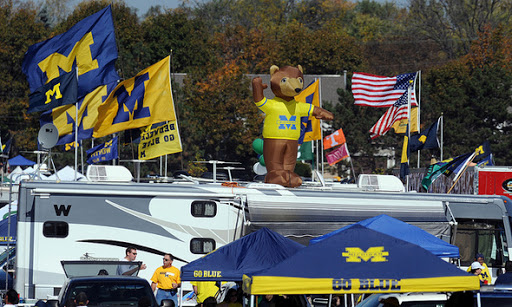 ARE YOU A LOT OWNER?
Park N Party® is looking for Lot Owners. It doesn't matter if you're a business or individual. If you're providing parking or tailgate services for sporting events, concerts, or community events and want to learn more about the benefits of listing your lot with Park N Party®, check out our Lot Owners page and sign up today!