What You Can Bring To The Big House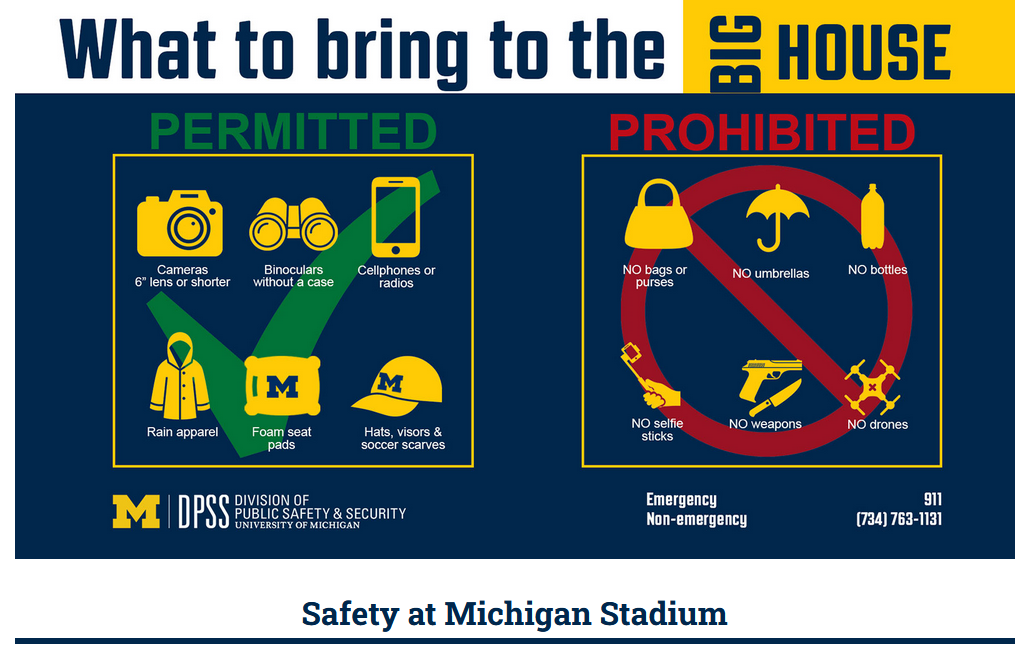 Updated for 2022 Season
Athletic officials and law enforcement personnel have completed emergency response plans for a variety of situations at Michigan Stadium. We hope these emergencies never occur, but we are prepared if they do. This information will help you know what to do to contribute to a safe environment for all.
What You Should Do
Based on the nature of a specific event or emergency, directions to fans and staff will be communicated via public address announcements and video scoreboard messages. Emergency sheltering locations may include Crisler Center, Ann Arbor Pioneer High School and other nearby Athletics facilities. Fans are requested to listen to announcements and remain seated until instructed otherwise.
What Not To Do
In order to ensure a safe environment for all those attending events at the University of Michigan, we want to remind you about three key provisions of the University of Michigan Regents Ordinance:
Alcohol, possession and/or consumption, is prohibited in any University facility, arena or stadium where any event is taking place, athletic or otherwise.
No person shall throw, project or drop any projectile or object that could cause injury, damage or interference in the spectator or playing area.
Unauthorized entry onto the playing surface before, during or after the event is prohibited.
Violation of these articles of the University ordinance shall constitute a civil infraction and shall be punishable by a fine of not more than $50 plus court costs.
The possession and operation of unmanned and/or remote controlled aircraft (drone) is prohibited at Michigan Stadium and surrounding area. Any person who knowingly or willfully violates the rules pertaining to operations in this airspace may be subject to certain criminal penalties.
What to Bring
Fans are encouraged to bring ONLY necessary items to football games at Michigan Stadium. All subjects and items are subject to search.
Permitted Items
Foam seat pads
Small non-pocket seat cushions without storage slots
Binoculars -- CASES are not permitted
Cell phones and pagers
Small cameras (those with a lens shorter than 6 inches) and radios
Blankets and rain apparel -- UMBRELLAS are not permitted
Walking canes


Prohibited Items
All bags (including purses, clear bags, fanny packs, etc.)
All bottles (including all types of water bottles)
Alcoholic beverages
Aerosol and spray cans
Animals (except service animals for persons with a disability)
Apparel or signage displaying profane or abusive language
Containers of any kind (including coolers, thermoses, cups, cans, flasks)
Flags and flagpoles
Food of any kind
Irritants
Projectiles (including footballs, Frisbees and beach balls)
Seat cushions containing any type of metal or those with pockets, storage slots, seat backs, arm rests, or attachments of any kind
Strollers
Video camera, tripods and selfie sticks
Umbrellas
Weapons
Any other item that may obstruct or impair the view or enjoyment of another attendee
Changes in national and regional security levels may affect security procedures at Michigan Stadium. Medical exceptions for guests with medical or childcare needs (e.g., medical prescriptions, diapers for a baby, etc.) will be addressed individually at the gates.
We appreciate your cooperation with these security measures. Enjoy the game!